This month my husband and I celebrated 11 wonderful years of marriage.  Does that sound tacky?  Well if it does, I don't care! Ha!
We are one of those couples that actually love to be with each other all the time.  We were known as love birds when we were dating and even though with time things do change, I am actually very lucky to say they have changed for the better.  We were lucky enough to have found one another and I thank God for him every day!
Our anniversary also got me thinking about how awesome our wedding turned out, even without the beauty that is Pinterest right now.  I mean seriously,  how lucky are all of you newly engaged to have a tool like Pinterest to search for and save all those wonderful ideas out there.  Although I would not change anything in my wedding, I have seen a few super cute ideas I would have loved to have known about when I got married.
Another thing I would have loved to have when I got married was an awesome wedding binder.  I have always been creative so I did have one I made myself with scraps of paper and protective sleeves (which I still have).
So… purely out of love for weddings and reliving my own, I created the Ultimate wedding planner.  Maybe I will use it again for my 25 wedding vow renewal!

This planner is the perfect wedding companion for any future bride or groom.  Here is what it includes:
+ COVER SHEET
+ 4 WEDDING BUDGET SHEETS
+ HONEYMOON PACKING CHECKLIST
+ NAME CHANGE CHECKLIST
+ SEATING CHART
+ CONTACT LIST
+ VENDOR LIST
+ INVITATION WORKSHEET
+ ATTENDANT SHEET
+ BRIDAL GOWN
+ DRESS IDEA SHEET
+ GUEST LIST WORKSHEET
+ WEDDING IDEA SHEET
+ SHOWER GIFTS
+ GIFT REGISTRATION
+ WEDDING COUNTDOWN
+ INVITATION DETAILS
+ APPOINTMENTS
+ BACHELOR PARTY
+ BACHELORETTE PARTY
+ WEDDING EMERGENCY KIT
+ ENGAGEMENT PARTY
+ HER VOWS
+ HIS VOWS
+ 2 BRIDAL SHOWER PLANNER SHEETS
+ TABLE PLANNING SEAT
+ BRIDESMAID IDEAS
+ GROOM TUXEDO IDEAS
+ GROOMSMEN TUXEDO IDEAS
+ HAIR IDEAS
+ MAKE-UP IDEAS
+ MONTHLY PLANNER
+ NOTES
+ WEEKLY PLANNER
+ TODAY PLANNER
+ FLOWER PLANNER
+ WEDDING PICTURE CHECKLIST
40 printable pages with everything you need to plan your big day and stay organized.
The Ultimate Wedding Planner is now available as an Instant download in the SPT Etsy Shop.
While you are getting all your planner pages printed make sure to check out my Wedding Pinterest Board to get ideas!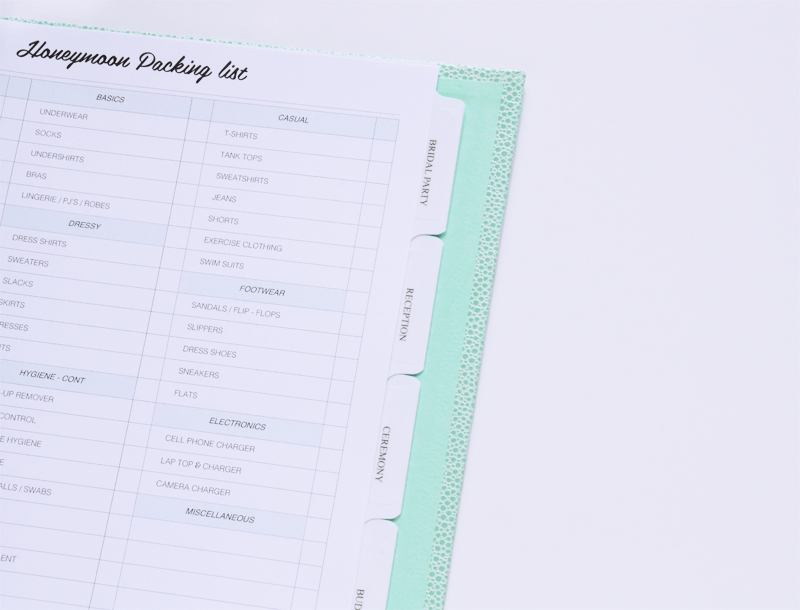 Congratulations on your new engagement!!
p.s.  While you are there, take a look at the many new wedding printables that were just added!