Spt Success Goal Sheets 2014
The year is coming to end and what started off as a couple of worksheets for goal planning this 2014 has now grown to a 10 page Spt Success Goal Sheet Pack for 2014!
There is no better way to start the new year than with a plan in hand.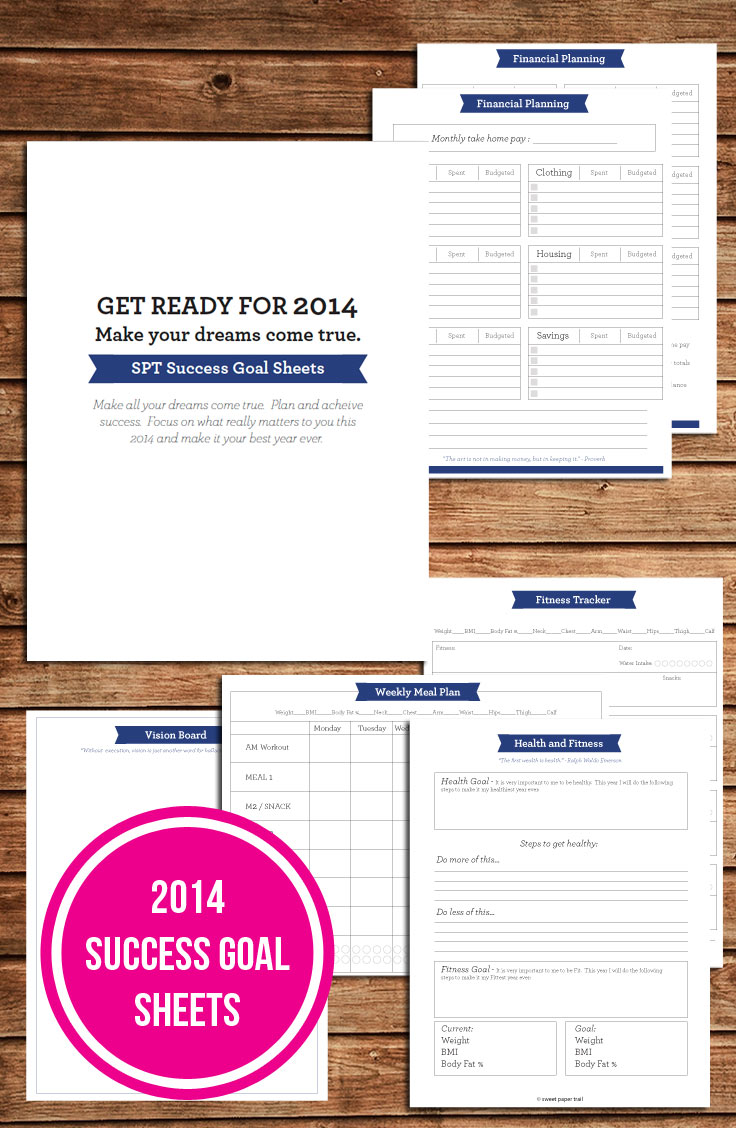 These goal sheets were created to help you plan and achieve success making this 2014 the year your dreams become a reality.
This will be my first year using these sheets myself and I am stoked!
In this pack you will find:
10 INSTANT DOWNLOAD – sheets that you can print and reprint as often as you need to.
Goal Planning – All your goals in one place.  Personal Goals, Health and Fitness Goals, Financial Goals, Career Goals, & Spiritual Goals. Sit down and get your thoughts together, this is the start of a new you.
Goal Planning Action Steps – This is a worksheet you reprint as many as you need to.  On this worksheet you focus on a particular goal and decide why it's meaningful to you and the action steps you need to do to get you closer to your goal.
Gratitude and Positivity – Being grateful is a part of the process that gets you to your desired outcome.  You not only need to be grateful of all your blessings, but you also need to get yourself into a positive mindset to get anywhere.  A big problem for me is stress.  I tend to stress about things that I should not necessarily be stressing about.  Then I stress out about being stressed out, and that's just wacko!  This worksheet is going to be a game changer for me.
Vision Board – How many times have you heard that you need to visualize your goals so that all the energy you have knows where to take you.  This page is going to be used a little bit different.
Vision boards are based on the law of attraction, as many say.  You look for images that describe your ideal world and paste them on a page.
We however are going to make this vision board an action board.  We are not going to simply visualize what it is we want in our life, but we are going to take action steps to get there."Without execution, vision is just another word for hallucination," Mark Hurd

So here is what I want you to do – Dream about your goals, envision how you are going to get yourself there, and make it happen!

Health and Fitness – Ahh the famous new year resolution everyone loves to make and not succeed at.  Well this year I am going to succeed, because it is not a resolution but a goal, that I will take steps into completing.  If I follow these steps the outcome will be what I have always wanted, right? RIGHT!

Fitness Tracker x 2 – Yup, this is how I am going to do it and this is what I am doing.  I am going to make you be accountable! Two worksheets to track your health and fitness journey.
Weekly meal plan – This a worksheet like no other.  The concept is that every day you should be eating every few hours to fire up your metabolism.  This worksheet will help you visualize what you are doing right and what is getting you off track.  This is your goal! You need to do it for yourself!
Financial Planning – Oh the oh so sticky subject.  Don't you just hate the word finances, it seems to have the word stress attached to it for me. lol This following year my goal is to reduce my stress levels by half,  Exercise and proper nutrition will play an active role in me getting there, but these next two worksheets will help me achieve success.
That's it.  Get ready for 2014.  Make your dreams come true.  Plan and achieve success.  Focus on what really matters to you this 2014 and make it your best year ever.