Hi, guys!  Today I am here with an all new kind of planner.  I have never really shared with anyone that at one point of my life I was a Real Estate Agent.  Actually, I have had my Real Estate License for 15 years, crazy huh.  Last week I met up with a couple of real estate buddies and they mentioned to me that as the year comes to a close, they are looking into setting their goals for the upcoming year.  My designer brain quickly started to wonder if there was any printables out there that would help my buddies out.  The very few that I found were definitely lacking in both functionality and style, so I decided to create some.  Meet my new baby… The Ultimate Real Estate Goal Planner
The Ultimate Real Estate Goal Planner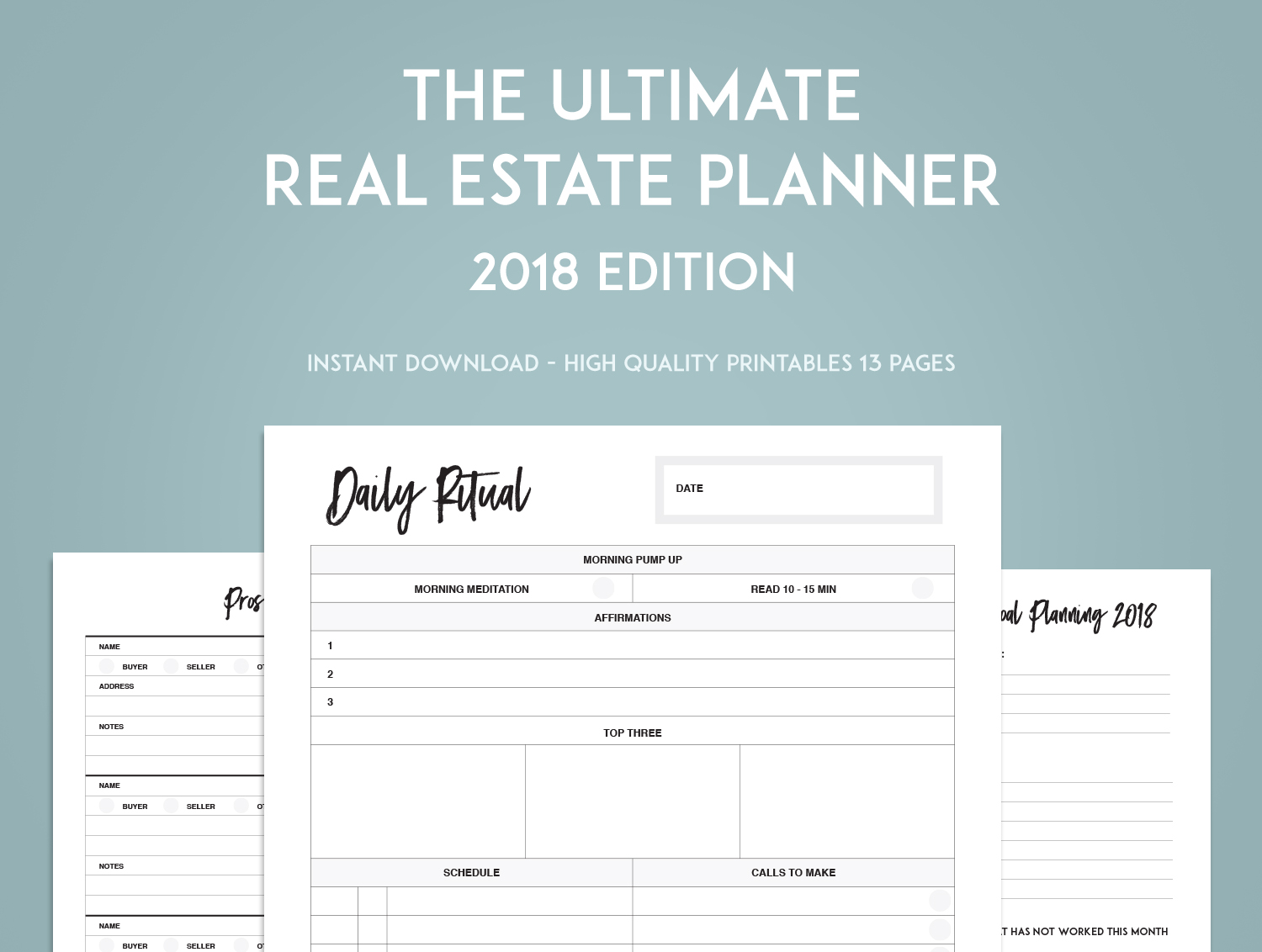 13 pages that are going to help you get to where you want to be in your real estate business in 2017.
Let's take a look at some of them together.
Daily Ritual Page
First up is my  Daily Ritual Page.
It has everything you wish you did every day but don't. 🙂
Morning meditation
Reading at least 15 min a day
Daily Affirmations
Top 3 for the day
Schedule you can customize to your liking
Important notes, emails, and calls.
Everything on one page!
Monthly and Weekly Real Estate Goal Planning
Next is your monthly + weekly goals.
We are often told that when you write it down, visualize and commit to something we are more likely to accomplish it.  Well, this page does that. Learn what has worked and what hasn't.  Make changes accordingly and succeed.
Next, we have Realtor tools to keep you organized.
Real Estate Buyer Profile
Real Estate Seller Profile
Open House Checklist
Prospecting Checklist
Lastly, complete goal tracking.
Seriously, it is everything you need to start off with a bang this 2018.  What are you waiting for? Check them out in my shop now!